Islam Awareness Month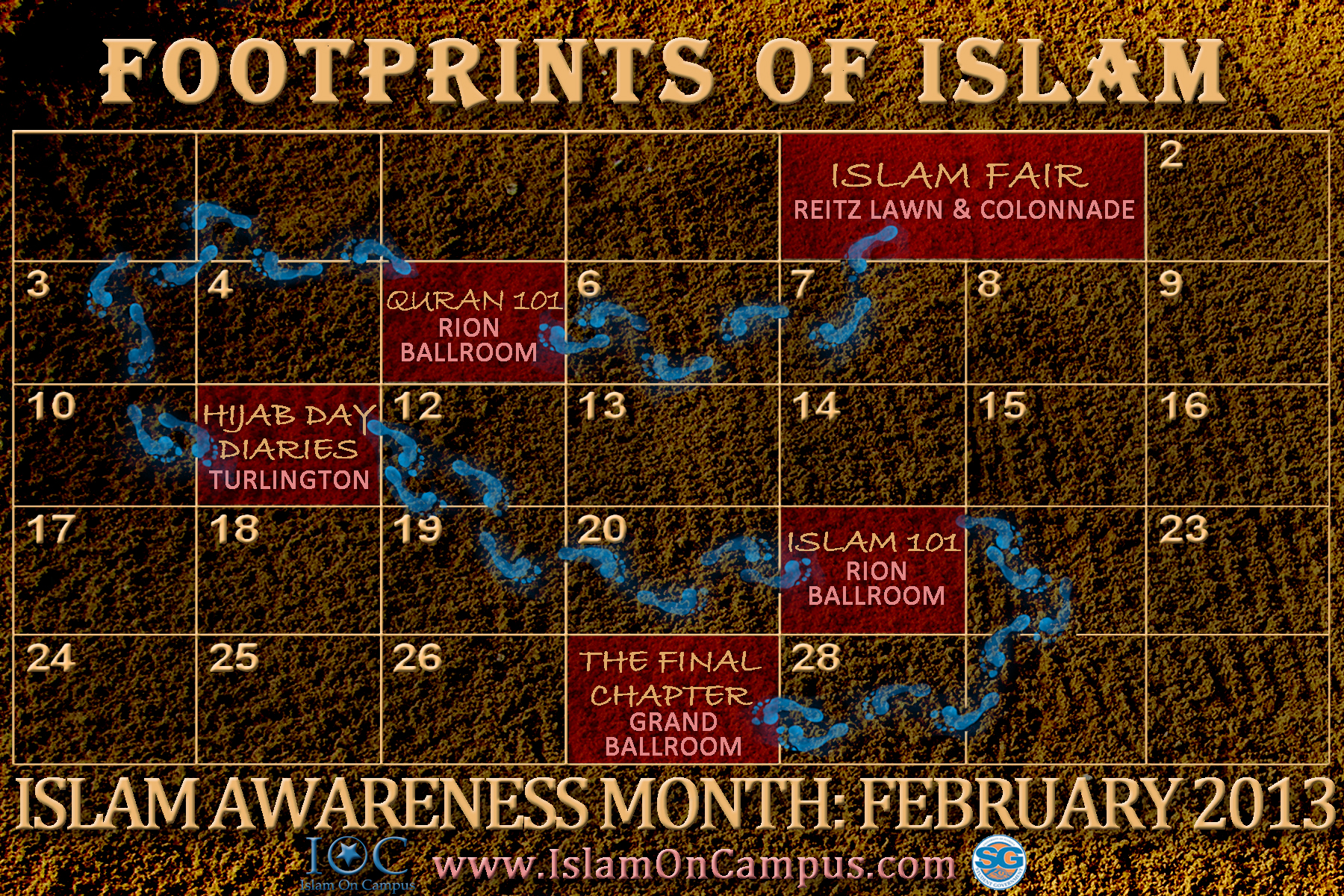 Islam Awareness Month (IAM) kickstarted January 31, 2013 with our annual Islam Fair at the Reitz Colonnade, and there is a whole month of more cool events planned for you! This year, our theme is "Footprints of Islam" and we hope to take you on a journey through different aspects of Islam! First of all, what is Islam Awareness Month? It's simple – Islam Awareness Month is a month here at UF dedicated to raising awareness about several issues and aspects of Islam, and it is hosted by your UF Islam on Campus (IOC) organization! Take a look at the events planned, and make sure you mark your calendars and attend! Be sure to check us out on Facebook! http://www.facebook.com/events/473425039382363/
Islam 101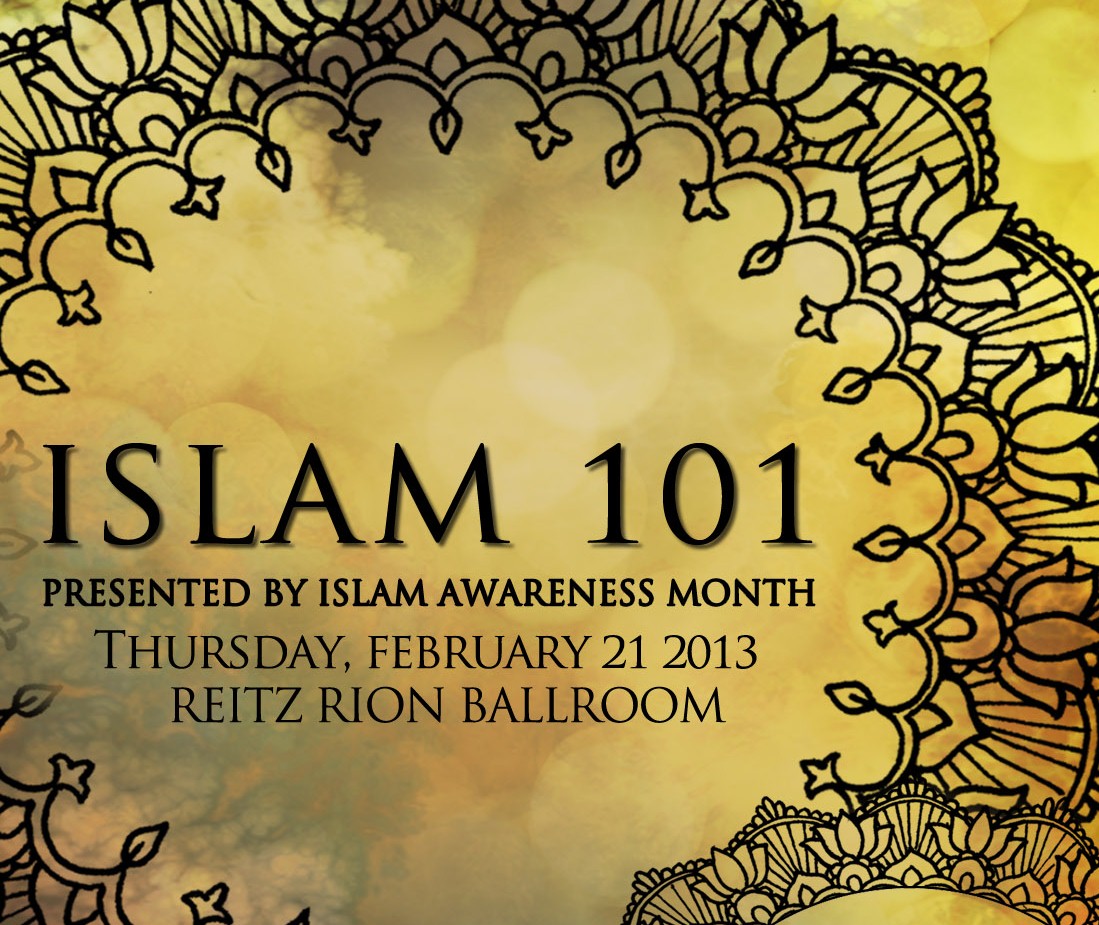 Thursday, February 21
Doors open 6:30 pm, Event: 7:00-9:00 pm
Reitz Union – Rion Ballroom
Speaker: Omar Suleiman
A discussion on the basic tenets and foundations of Islam, along with its essence and answers to frequently asked or misunderstood aspects of Islam. Have you ever had any questions on Islam? Want to learn more about Islam? This event is for you!
The Final Chapter: Last Prophet Muhammad
Wednesday, February 27
Doors open 6:30 pm, Event: 7:00-9:00 pm Reitz Union – Grand Ballroom
Speaker: Joshua Evans, who has read the bible and the Quran, cover to cover, and decided to convert from Christianity to Islam. A discussion on the Prophet Muhammad, revered by Muslims worldwide, his life, teachings, and legacy. Have any questions on the Prophet and who he is? This event is for you!
Islam Fair
January 31 10:00 am-3:00 pm
February 1 10:00 am-1:30 pm
Come celebrate the rich cultural diversity of the Islamic World, through cool displays, Henna hand tattoos,Arabic calligraphy, ethnic clothes displays, a photobooth, Tye-Dye Hijabs, and so much more! And, of course, free food for all!
Quran 101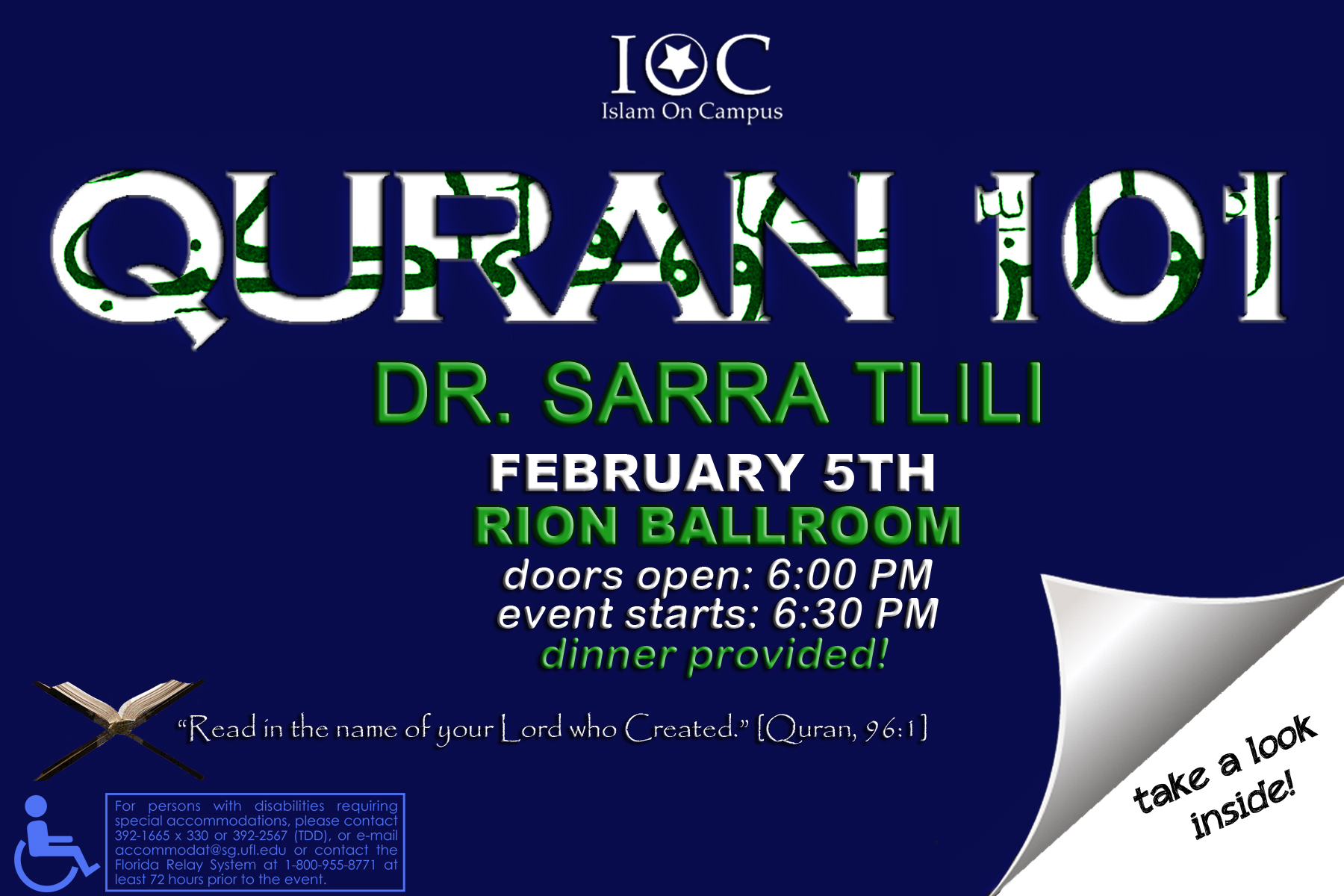 Tuesday, February 5
6:30 – 8:30 pm
Reitz Union – Rion Ballroom
Speaker: Dr. Sarra Tlili
A discussion regarding the Holy Quran, the sacred text revered by Muslims. Have you ever had questions regarding what the Quran is, or what it really says? This is the event for you!
Hijab Day Diaries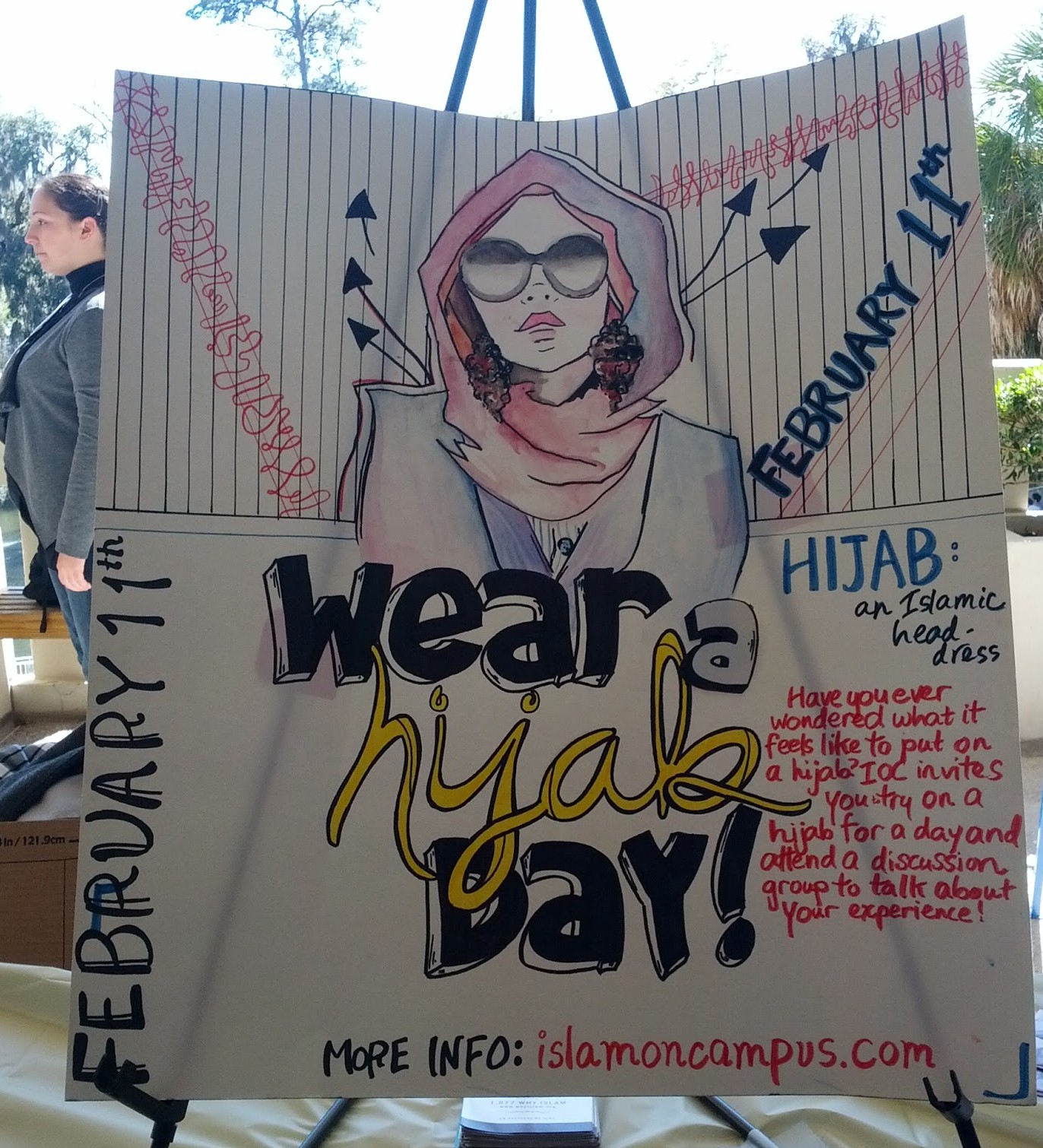 Monday, February 11
Turlington Plaza during the day, classroom NPB 1101 in the evening
Female students are invited to put on a Hijab, the Islamic head-covering, for the day and come in the evening to discuss their experiences, reactions, perceptions, etc.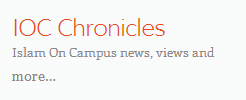 IAM Chronicles contest voting has ended.  IAM Writer winner is prose titled Dolor and IAM artist winner is calligraphy titled InshAllah.
Submissions for Chronicles are still being accepted in general.  For questions about that, contact Zulkar or Qanit.
Here are the meeting minutes:
For general E-board meetings, check out the IOC Archives.
If you are interested in participating email iam@islamoncampus.com
スライドショー準備中