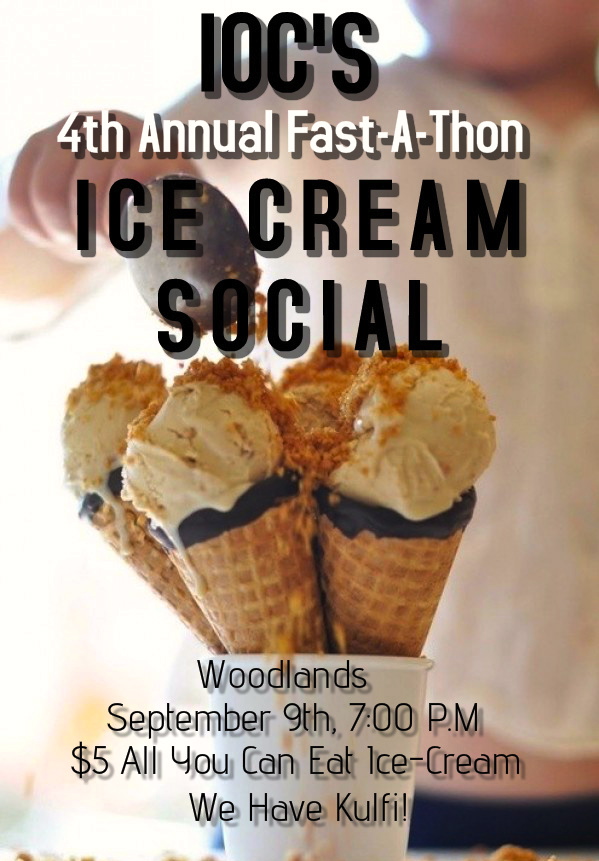 It's the best time of the year again, our annual Fast-A-Thon is coming up on October 9th! There is no better way to fund raise for the biggest event of the semester than with ice cream and a fun filled night! Join us for a great time that will include unlimited ice cream, laughs, and chilling!
YOU guys are the key to making this years Fast-A-Thon amazing. We need your help to raise money for our two wonderful charities: Radiant Hands, which strives to empower women in the North-Central Florida area by providing them with spiritual, emotional and financial support with the goal of helping them achieve independence in mind, and Islamic Relief Worldwide, which is an independent humanitarian and development organisation with a presence in over 40 countries around the globe.
$5 gets you UNLIMITED ice cream, access to some pretty neat things in the auction, and tons of fun with board and video games! However, make sure you come with a full wallet, so you can buy all the cool things at the auction, and this year we are auctioning off really special valuables that you wouldn't want to miss out on!!!
Invite any and all your friends to this event, the more the merrier! Lets get excited for Fast-A-Thon and make this years the best one yet! Hope to see you all there! 🙂
Location: The Woodlands Clubhouse
Visit the Facebook Event Page for more.